Falling Together: How to Find Balance, Joy, and Meaningful Change When Your Life Seems to be Falling Apart   
names Falling Together "A Must Read Book to Give as a Gift to Your Best Girlfriend."

I'm Honored That Falling Together Has Received:
Director's Choice "Outstanding Book" Human Relations Indie Book Awards
Finalist in USA Best Book Awards
There are times in life that shake us to our very foundations. We wish for things to get better, fast. But the truth is that moments of "falling apart" are also our most powerful catalysts for growth and change. In Falling Together, Donna Cardillo, a registered nurse, Dr. Oz blogger, and beloved public speaker, reflects on the overwhelming challenges that fall into every life, and the renewal that comes when we are able to meet them with courage.
Add to Cart, Autographed Copy, $19.95 · Learn More
Nurse Power™ Inspirational Art Posters
What happens when you combine uplifting words by The Inspiration Nurse with an inspired and artistic background?  You get an explosion of inspiration, positivity, and aesthetics. These beautiful posters (sold in sets of six) are the perfect addition for the workplace, home, or classroom.
Add to Cart, $99.00   ·   Learn More
Falling Together Inspirational Card Deck
Each card in this 50-card set has been individually designed with a positive, empowering message and beautiful image to support the affirmation. The entire set comes in a colorful organza drawstring pouch and makes a loving gift for yourself and others. Add some joy, positivity, and happiness to someone's life including your own!
Add to Cart, $29.95   ·   Learn More
4-Book Special (save $15)
This collection includes all of Donna's books:
Add to Cart, $75.00   ·   Learn More
Career Alternatives For Nurses®
A Program for Success (3rd Edition) with PDF Manual
Get ahead of the competition – in business and in life! Gain valuable information and resources on over 60 career opportunities available to all nurses both in and out of the hospital, such as business ownership, holistic nursing, forensic nursing and more.
Audio Download, with PDF manual, $99   ·   Learn More
How to Start Your Own Business or Consulting Practice with Manual
If you're thinking about business ownership, you already have a business in place, or you're just curious for that next stage in your life, this program is for you. Learn to live your dream from one of the country's most successful nurse entrepreneurs.
Audio Download, with PDF manual, $99  ·   Learn More
The ULTIMATE Career Guide for Nurses
Practical Advice for Thriving at Every Stage of Your Career, 2nd edition
No matter where you are in your career, The ULTIMATE Career Guide for Nurses will help you get the most out of your career and love what you do! Written in her customary down-to-earth and humorous style, Donna takes you step by step through career advancement and both career and personal development.
Add to Cart, Autographed Copy, $29.95  ·  Learn More
Your First Year As A Nurse: Making the Transition From Total Novice to Successful Professional
Welcome to the compassionate and caring world of nursing! You are entering a profession that offers great rewards and endless opportunities. But you must prepare for the challenges ahead and do everything you can to ensure that you experience the best that nursing has to offer.
Add to Cart, Autographed Copy, $20.00  ·  Learn More
A Daybook for Beginning Nurses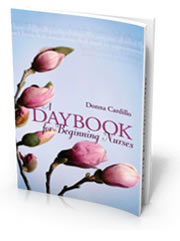 Thought-provoking essays exploring themes significant to the new nurse, begin each monthly "chapter." Each month's topic is reinforced through daily suggestions and advice to help the beginning nurse thrive in the workplace. Journal space following each entry encourages readers to record their reflections, allowing them to document their life-changing journey into nursing.
Add to Cart, Autographed Copy, $19.95  ·  Learn More