101 Global Leadership Lessons for Nurses: Shared Legacies From Leaders and Their Mentors
Nancy Rollins Gantz, RN, MSN, PhD, MBA, NE-BC, MRCNA, editor
This book covers challenges that face healthcare leaders, such as communications, negotiations, resource management, and work-life balance.
6 Shortcuts to Employee Engagement
This book is a treasure trove of easy to implement, high-impact ideas for healthcare leaders struggling to keep employees engaged. Most leaders really do want to improve employee engagement – they just don't have an effective method that works along with (rather than in addition to) all the other priorities in their day.
7 Summits: A Nurse's Quest to Conquer Mountaineering and Life
A mountain climber explores goal setting, motivation, dedication, and the pursuit of challenge in the face of adversity.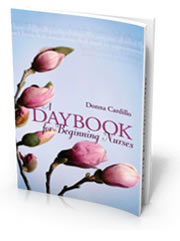 A Daybook for Beginning Nurses
This perpetual daybook offers 365 motivating tips and quotes from the bestselling author and speaker.
A Daybook for Nurses: Making a Difference Each Day
A Daybook for Nurses features daily quotations, stories, poems, and inspirational thoughts especially for nurses.
A Practical Guide to Finance and Budgeting: Skills for Nurse Managers
A Practical Guide to Finance and Budgeting breaks down the confusing financial side of healthcare so that nurse managers can get the job done.
Admit One: What You Must Know When Going to the Hospital-But No One Actually Tells You!
Kati Kleber, BSN, RN, CCRN
Whether it's you or a loved one who is being admitted, you can use this insider's guide to understand as much as possible about the culture of a hospital, how it functions, and what to expect of your health care providers.
African American and Cherokee Nurses in Appalachia: A History, 1900-1965 (Contributions to Southern Appalachian Studies)
Few career opportunities were available to minority women in Appalachia in the first half of the 20th century. These women created unprecedented networks of care, managed nursing schools and built professional nursing organizations while navigating discrimination in the workplace.
American Nightingale: The story of Frances Slanger, Forgotten Heroine of Normandy
American Nightingale is a biography of a World War II army nurse who was one of the first nurses to wade ashore on Normandy beach.
And If I Perish: Frontline U.S. Army Nurses in World War II
Evelyn M. Monahan and Rosemary Neidel-Greenlee
And If I Perish tells the story of Army nurses who served in the war against Germany.
A nurse sleuth solves mysteries that crop up in a hospital ICU.
If you're trying to juggle the world, B is for Balance (2nd ed.) is for you. This book is about the individual nurse, the professional, the multi-tasker, the be all things to all people leader. This edition focuses on balance and the need for each of us to live longer and live well.
Beautiful Unbroken: One Nurse's Life
In this memoir, Nealon tells how her younger brother's diagnosis with a rare form of cancer shaped her nursing career.
Becoming Influential: A Guide for Nurses
This book teaches nurses how to build the skills they need to gain and use influence.
Becoming Nursey: From Code Blues to Code Browns How to Care for Your Patients and Yourself
Nursing isn't a career; it's a calling. Learning how to be a great nurse at the bedside while maintaining your sanity at home is no easy task. This book talks about how to realistically live as a nurse, both at home and at the bedside.. with a little humor and some shenanigans along the way.